The New Normal
Working from home. A widely accepted and appreciated concept in the new normal of 2022: Slack, zoom meetings & virtual collaboration are all tools utilized on a daily basis. More time with family, less time commuting and emphasis on mental health awareness are all positive things to come out of working from home.
The Benefits of In-Person Team Meetings
But what about the benefits of in-person team meetings? I'm not talking about 40 hours in a windowless office staring at your computer - I am talking about the occasional in-person team meetings, check-ins or retreats? It can be difficult to feel aligned with someone when you're staring at their zoom profile picture, and after staring at a computer screen for an entire day, you may be feeling slightly less agreeable or understanding of requests.
According to The Washington Post, requests made in-person or 34 times more effectively than those sent by electronic communication, and a physical greeting (handshake or high-five) promotes cooperation and positively influences negotiations.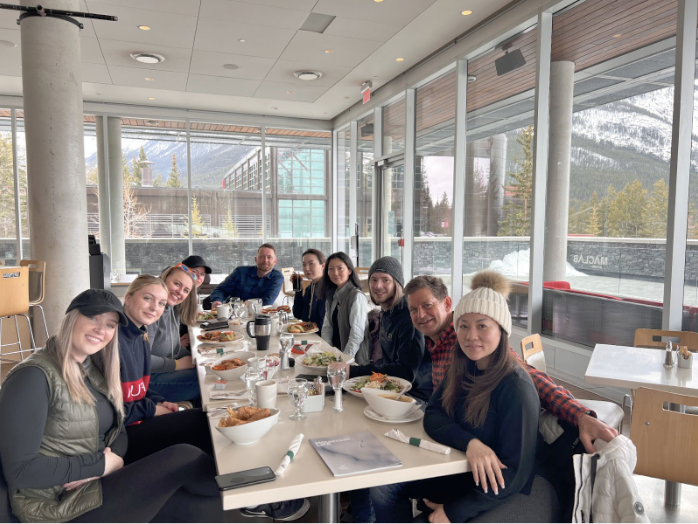 The Return to the Office? Not Quite
It's no secret that the return to 40 hours in the office is not coming back by popular demand. But it would be a lie to say that all of us at some point haven't felt the burnout that is a result of endless hours of sitting in your home office, kitchen table, or living room floor communicating through quick keyboard responses and an occasional zoom meeting. Burnout is composed of mental, emotional and physical exhaustion that can lead to feeling anxious and overwhelmed. A survey conducted by Deloitte showed that 77% of full time employees have experienced burnout in their current job, causing unmanageable amounts of stress and repercussions in their personal lives. In-person team bonding can alleviate burnout and socio-emotional stimulization in the brain differently than virtual meetings and results in stronger and faster connections in real life.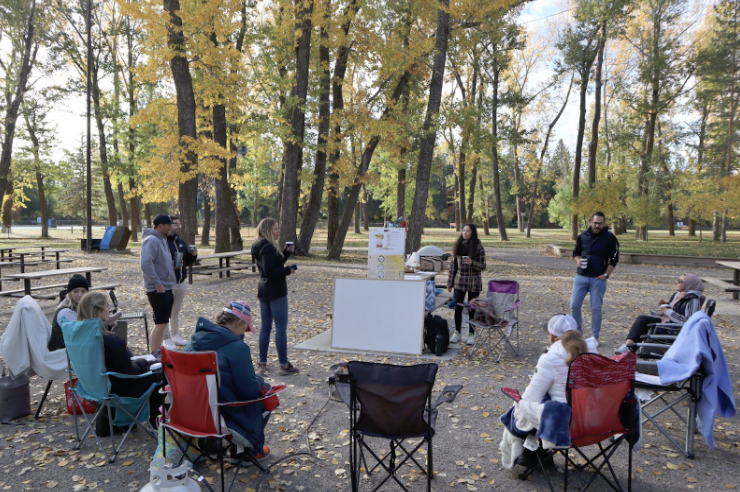 Increased Productivity, Creativity and Critical Thinking
The alleviation and proactive avoidance of burnout leads to overall increased productivity, creativity and critical thinking - which is beneficial for everyone. Whether you are an introvert or an extrovert, all people require a minimum level of human interaction to perform at their best, mentally and physically. When you are feeling your best mentally, then it translates to the performance in your work - increased levels of creativity and critical thinking helps improve the quality of work and the speed at which tasks or projects are completed.
The benefits of working from home have been undisputedly proven, and no one is in a rush to abandon a flexible working schedule. But - there are important advantages to in-person team meetings that can easily be integrated into a flexible working schedule.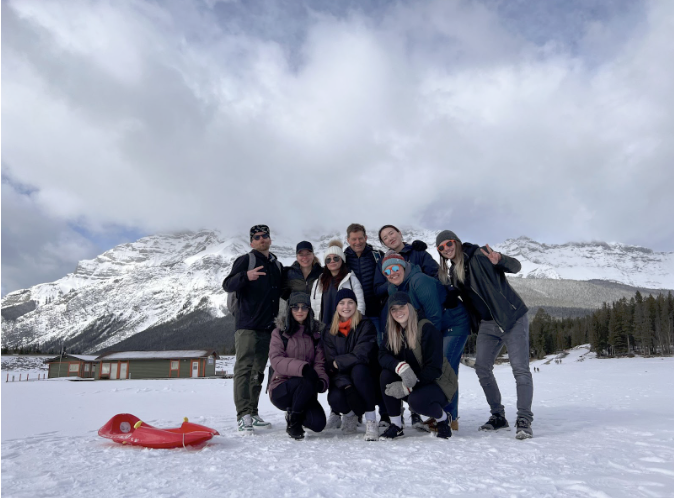 3 Ways to Integrate 'Fun' Into Your Team Building
1. Stray from tradition. Our team recently did a two day retreat: one day in the office and one day adventure around Banff. The split provided a day to get much needed collaborative work done, and a day outside of the office that allowed for team bonding, a sledding competition and a hair flipping competition.
2. Change up the venue. Many offices have recreation spaces that have activities such as pool tables and ping pong that promote team bonding outside of the traditional setting, while still getting the team together for creative and collaborative efforts.
3. Get outside. There are a ton of parks and outdoor spaces that your team can set up in to get out of the office but still be together in person. Our team has used venues such as outdoor ice skating rinks, a park for yoga and participating in a team scavenger hunt in downtown Calgary.
More about Global Talent Accelerator
GTA has spent the last three years finding, vetting over 6,700 dev shops from around the world and tagging them based on their specializations. We've done the heavy lifting- the vetting, the testing and the tagging. Give us 10 minutes will give you 10 viable, well matched options.